Research and Development
As a stronghold for development of the Company's high-tech materials, our research department is engaged in development of high performance metal surface treatment agents, heat resistant adhesives and paints, and various inorganic flocculants such as aluminum chloride and aluminum sulfate.
Furthermore, Asahi Chemical works in collaboration with Sumitomo Chemical, with whom Asahi has a close affiliation, to develop fundamental technologies supporting material development, such as evaluation technology and analysis technology, as well as production technologies for industrialization. Asahi Chemical constantly pursues improvement of products and development of new products to increase customer satisfaction, responding quickly to their needs.
Metal surface treatment agents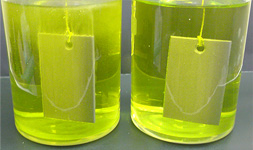 Since 1952, when the Company developed and launched for the first time in Japan an inhibitor for acid cleaning, the Company has accumulated metal surface treatment technologies such as anti-corrosion technologies and cleaning technologies backed up by organic/ inorganic chemistry, electrochemistry, and interface chemistry. Based on those technologies, the Company pursues development of higher performance and higher quality products, and also places emphasis on technical service to meet customers' requests.
Heat resistant adhesive and paints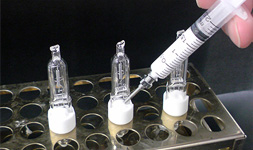 The Company has built technologies of heat resistant adhesives and paints on the basis of crystal chemistry, powder chemistry, and colloid chemistry. Our R&D group is engaged in researches meeting a wide range of industrial needs covering home electronics, automobile, steel, ceramics, and construction. In addition, the Company provides technical services, helping customers establish most suitable application conditions.
R&D equipments room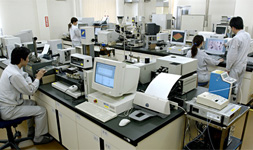 Electron microscope